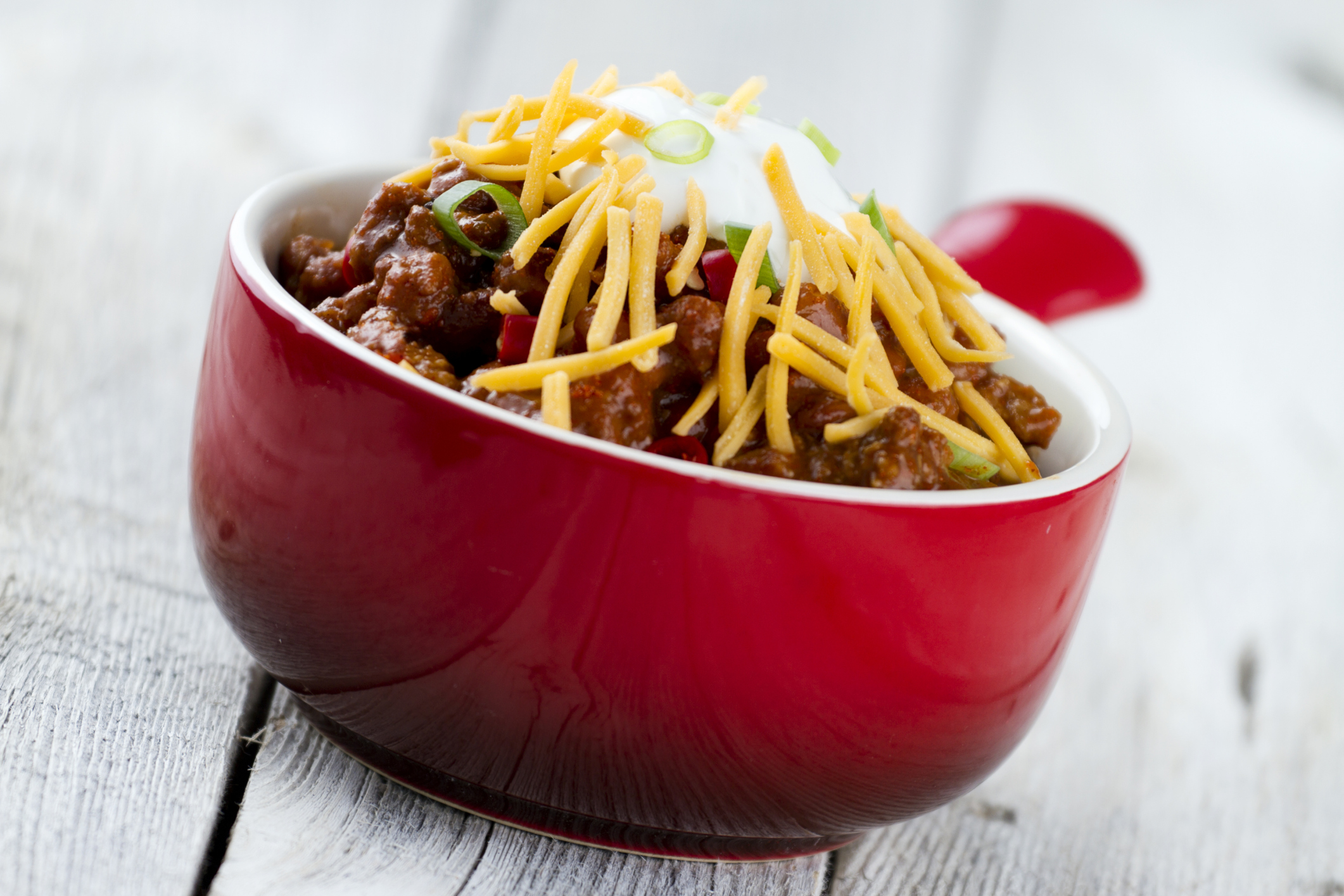 You don't have to be a sports nut to enjoy tailgate chili, but this fan favorite does make for a great pre- or post-game meal. It might even earn you a standing ovation! This recipe for tailgate chili has an ingredient list longer than the roster for your favorite football team, but don't let that fool you: it's not difficult to make. We recommend preparing and cooking your chili the night before the big game and then reheating the next day. Not only does this eliminate game-day stress, but it also allows the chili's many flavors to mix and mingle overnight.
Most of your energy will be expended shopping for the ingredients and washing, seeding, and chopping the veggies. From there on, it's really just a matter of combining and watching, seasoning to taste, and waiting for your chili to cook up.
Rodland Toyota of Everett's Tailgate Chili
Prep time: 30 minutes
Cooking time: 2 hours
Serves: 12
Ingredients
2 pounds ground beef chuck
1 pound bulk Italian sausage
3 15-ounce cans chili beans, drained and rinsed
1 15-ounce can chili beans in spicy sauce
2 28-ounce cans diced tomatoes with juice
1 6-ounce can tomato paste
1 large yellow onion, chopped
3 stalks celery, chopped
1 green bell pepper, seeded and chopped
1 red bell pepper, seeded and chopped
2 green chili peppers, seeded and chopped
1 tablespoon bacon bits
4 cubes beef bouillon
½ cup beer
½ cup chili powder
1 tablespoon Worcestershire sauce
1 tablespoon garlic, minced
1 tablespoon dried oregano
2 teaspoons ground cumin
2 teaspoons hot pepper sauce
1 teaspoon dried basil
1 teaspoon salt
1 teaspoon ground black pepper
1 teaspoon cayenne pepper
1 teaspoon paprika
1 teaspoon white sugar
1 10.5-ounce bag corn chips, such as Fritos
1 8-ounce package shredded Cheddar cheese
Directions
Start by cooking the meat. Heat a large soup pot over medium-high heat. Add the sausage and crumbled ground chuck, and cook until it browns evenly. Drain excess grease.
Now, it's time to add the bulk of your other ingredients. Start with the chili beans, spicy chili beans, diced tomatoes, and tomato paste. Then, add onion, celery, bell peppers, and chili peppers. Bacon bits, bouillon, and beer come next, then add chili powder, Worcestershire sauce, garlic, oregano, cumin, hot pepper sauce, basil, salt, pepper, cayenne, paprika, and sugar to season. Stir everything together to blend. Cover, and simmer over low heat, stirring occasionally, for a minimum of 2 hours.
At the 2-hour mark, you'll be ready to take a taste. Add more salt, pepper, and chili powder, if necessary, to suit your taste. Continue to simmer longer if you like, as this will only improve the chili's taste. When the chili can't get any better--or you can't wait any longer--remove from heat. You can ladle up and serve immediately or refrigerate to be served at tomorrow's tailgate party. When serving, top with corn chips and shredded cheddar cheese.